---
Programs
Action Chinese Missionaries – 2021
The 7-Stages of Spiritual Growth – 2019~2021
The Third Stage Spiritual Foundation – 5/14/2021 ~ 7/23/2021
Amazing Grace During Pandemic Testimony Dr. Wong- 8/4/2021
---
Action Chinese missionaries – 2021
About us – Action Missions:
Over the past decade, there are more than 150 Christians working hard in distant Arab and African countries. They are missionaries of Christ, silently giving their lives for the Great Commission, stepping into spiritually desolate regions where Christ's name is hardly mentioned. Along their paths, they spread the fragrance of Christ and attract people to the Lord.

These people are Chinese missionaries from around the world. Currently, they are serving the Lord in South Sudan, Sudan, Djibouti, Ethiopia, Somalia, Uganda, Pakistan, Kuwait, Iraq, Iran, Afghanistan, Nepal, Myanmar, Malaysia, Uzbekistan and Ukraine etc. Because of the sensitive nature of their work, we are using the code name 'Action Missions' to refer to them. In direct Chinese translation, we call them The Army of the Lord (耶和華的萬軍). They keep a very low profile.

Currently, only 2 countries: Myanmar & Malaysia that can openly accept short-term mission teams. There have been many short-term mission teams, some sent from abroad and others from local areas, and they have experienced full blessings from the Lord as they witness to those around them. As we support them from home, we fight together with those who are in the field, knowing fully that we will receive the eternal prize together!

Dr. Robert Wong, DDS, and his wife, Christine, RN, who reside Los Angeles area, are the contacts for Action Missions for North America. For about 20 years, they have visited the mission field regularly and care for the younger missionaries like spiritual parents through mentoring, counseling and meeting their various needs. In the meantime, they also visit different churches in the US and Canada and convey real life stories of these missionaries to North America Churches. With pictures, videos, and live testimonies from these missionaries, they can testify that the Lord is still sitting on the throne and doing great things. May these stories stir up zeal for missions in the people who hear these testimonies! With so many natural disasters and wars plaguing many Middle Eastern and African countries, mission partners are urgently needed to bring the Gospel of the Kingdom to people who are in serious suffering there.

As fellow partners in the Gospel, let us join these missionaries in their service to the Lord through prayer support, and financial support. Please pray for these missionaries and support them in any way you can. Let us praise God's grace together! Thank you!
Robert & Christine Wong
C : 1-650-380-1767
Email : actionmissions@gmail.com
Home address : 26065 Blascos, Mission Viejo, CA 92691 USA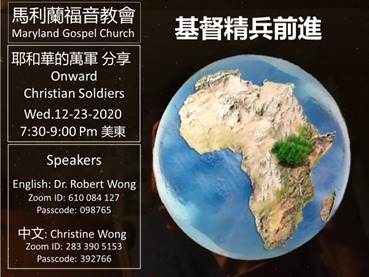 ---
The 7-Stages of Spiritual Growth – 2019~2021
The 7-Stages of Spiritual Growth was simply the pattern we've discovered from having developed hundreds of people from being non-believers to being committed, effective and mature disciples of Jesus.These stages actually correspond to how God created us, with life stages.

Our Story
Luke (D.Min) and Amy (JD) Wong, Founders of BRIDGES Ministry Since 2003

We were professionals–an engineer and a lawyer living the American dream, but discontent with our lifestyle of mundane maintenance and spiritual mediocrity. Even though we served at our church fervently on weekends, we still longed to experience this amazing God. Through a series of obedience by way of responding to His leading, we found ourselves in January of 2003 in a Country we'd never been before, with 3 young kids (ages 6, 5 & 3) and 10 boxes.

What began as a one year commitment to lead English Bible Studies to college students progressed over the years into a 7-Stages Spiritual Growth Strategy, making Equippers out of Seekers. Every time we observed a need to progress in those we were nurturing, another stage was developed–hence culminating in the realization of the Great Commission.

Although these years have seen their challenges, we consider ourselves privileged because we are truly experiencing the Abundant Life, witnessing wave after waves of young intellectuals who mostly started off as atheists but eventually accepted Christ and through the 7-Stages paradigm grew and developed into kingdom leaders and influencers.

Over the years, increasing number of church leaders have also approached us intent on learning about this 7-Stages strategy and requesting for training and a curriculum that they could adopt for their own church. As a result, in 2016, after handing over the 7 – Stages discipleship ministry over to the local leaders that we had developed, we have concentrated our time and efforts on establishing a Training Center whereby a 7-Stages core curriculum could be produced and local church leaders could receive training.

Since then, aside from being busy at the new Training Center, we have been responding to requests from North America, Europe, and South- east Asia to Equip Equippers by holding 7-Stages conferences and share the 7-Stages strategy and its core curriculum .
If you want to know more about the program, please click 7-Stages.


---
The Third Stage Spiritual Foundation – 5/14/2021 ~ 7/23/2021